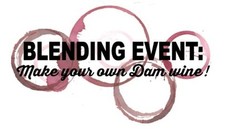 A WINE CLUB EXCLUSIVE
Saturday June 22nd from 3:30-8:00
Don't miss the chance to make your own Dam Fine Wine!
Work hand in hand with Castoro's expert team of winemakers to create a wine blend all your own. Each guest will get take home a 1.5L bottle of their blend, create a custom label, cork it and wax it. Plus, preview the next Dam Fine Red blend and vote for your favorite!
Full catered dinner, included.
$150 for a single ticket
$750 for a table of 6 people
Hosted by the Beav himself, & his wonderful wine making team, this jam-packed event has it all! If you've been before, you know what we're talking about. If you haven't yet had the pleasure, let this be the year.
Winemaker Tom Myers will lead you through a tasting, give you a glimpse into the art and science of constructing stellar blends, and provide you with all the materials you'll need to make your very own. They will also give you a souvenir apron and bottle up a Magnum (1.5L) of your final blend for you to take home and brag about later.
An al fresco dinner on the patio follows, along with Castoro wines of course! This is a great opportunity to take advantage of some up close and personal time with our owners, managers and winemakers.
Wildly popular, this event has quickly sold out in the past. Plus, we have reduced the number of seats this year in order to give everyone a bit more elbowroom, and we're offering full tables to accommodate groups for the first time. So don't hesitate to reserve your seats or you'll miss out!